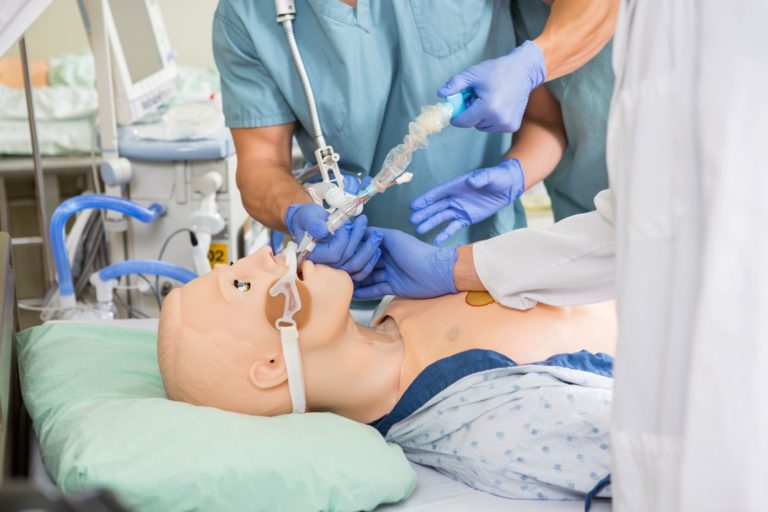 Tracheostomy Care & Management (Group Session)
COURSE DESCRIPTION
Tracheostomy Management Workshop
Tracheostomy is a surgical opening in the trachea. Tracheostomies are becoming increasingly common place both within the acute setting and the community.  As a result of this there is an expectation of increased knowledge and more advanced nursing and healthcare skills caring for these patients. This tracheostomy care training course aims to familiarise students with the reasons for tracheostomy and will raise awareness and ensure staff have sufficient knowledge to work safely around them.
LEARNING OUTCOMES
Legislation and National Guidelines
Principles of Consent for Treatment
Risk Assessment
History of Tracheostomy
Tracheostomy and its Indications
Techniques for Performing Tracheostomy
Review of Anatomy and Physiology
Tracheostomy: Contraindications, Advantages and Disadvantages
Post Operative Management
Complications of Tracheostomy
Types of Tracheostomy Tubes
Infection Prevention and Control
Humidification
Care of Tracheostomy
Suctioning
Tracheobronchial Suctioning
Types of Tracheal Suctioning
Patient Assessment
Equipment for Suctioning
Hazards of Suctioning
Tracheostomy Suction Preparation
Tracheostomy Stoma Care
Tracheostomy Emergencies
Accidental Decannulation
Emergency Tracheostomy Management
Tracheostomy Removal
Factors that affect Communication
Contraindications for Speaking Valve use
Factors that may affect swallowing
Documentation and Record Keeping
Knowledge and Skills Competency
CERTIFICATION
Upon completion delegates will receive certificate of attendance.NB: Competency must be achieved within the workplace within 6 months of attending the course.We are unable to organise any voluntary work in hospitals for you to gain further experience. You will have to arrange this yourself.