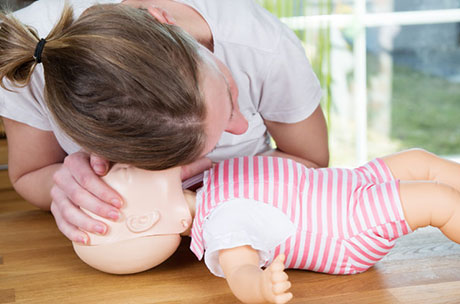 Emergency Paediatric First Aid L3 (RQF)
COURSE DESCRIPTION
This qualification is designed for those learners wishing to become an emergency paediatric first aider in the workplace with a responsibility for the welfare of infants and children. This qualification is intended for learners already working or preparing to work in industry. Topics within this qualification meet the requirements for paediatric first aid outlined in the Early Years Foundation Stage 2014 as being important to maintaining safe and effective practice when providing treatment of injuries and ill health of infants and children who are under the care of trained personnel in England.
How long will it take me to achieve this qualification?:This is a 1 credit qualification, with a guided learning hour's value of 10 and it has a minimum contact time of 6 hours, which is typically delivered via a 1 day course.
How is the qualification assessed?: Learners must undertake a practical assessment of their competence along with a short open response knowledge assessment, where learners are required to provide a short response to a prescribed series of questions.
CERTIFICATION
Upon completion delegates will gain knowledge, skills, strategies and understanding on paediatric first aid that would go a long way to save lives including family members or close relations. This course is accredited by the Highfield awarding Body of Compliance and the Association of First Aider and can be used as an evidence to update your CPD.
LEARNING OUTCOMES
Legislation governing Paediatric First Aid

Understand the role and responsibilities of the paediatric first aider

Be able to assess an emergency situation safely

Be able to provide first aid for an infant and a child who is unresponsive and breathing normally

Be able to provide first aid for an infant and a child who is unresponsive and not breathing normally

Be able to provide first aid for an infant and a child who has a foreign body airway obstruction

Be able to provide first aid to an infant and a child with external bleeding

Understand how to provide first aid to an infant and a child who is suffering from shock

Understand how to provide first aid to an infant and a child with anaphylaxis